By Matt Fitzsimmons – Physiotherapist
What it is:
DCM is the leading cause of spinal cord impairment in adults, which can rob people of their mobility and independence if left untreated. An estimated one in 10 people will eventually develop the condition, which is commonly diagnosed among patients over the age of 50. As the proportion of older Canadians rises, it's now more important than ever that people recognize the signs.
DCM involves compression to the spinal cord from a reduction in the space where the spinal cord is situated within the vertebrae. This compression, over time, can cause pain, disability, and a loss of function in the extremities due to altering the function of the nervous system.
This primarily occurs secondary to a bulge in the discs in the neck or when the soft tissue surrounding the vertebrae, such as the ligaments, increase in size or ossify. Below is a visual description of how this condition may occur: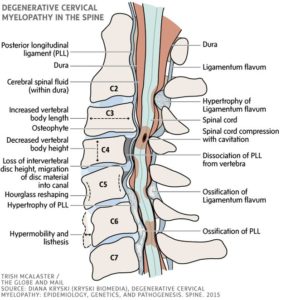 Here's what you need to know about DCM:
There is not much people can do to prevent this from happening. One of the main causes, a condition called OPLL (ossification of the posterior longitudinal ligament), is not preventable. The cause of OPLL is unclear, although there are genetic factors and the condition is more prevalent among patients of Asian descent. However, smoking is a known risk factor for cervical spondylosis and degenerative disc disease which can contribute to the cause of DCM.
The symptoms:
About 50 per cent of patients who are diagnosed with DCM initially report having neck pain, a symptom that should prompt a look at whether there's any compression of the spinal cord.
Other symptoms may include:
Impairment/clumsiness with walking or changes in your balance

Numbness, tingling and/or pain down one or both of the arms and hands

Pain down the length of the spine

Difficulty with fine motor tasks e.g. buttoning your shirt or hand writing

Bowel or bladder impairments
Because these symptoms can overlap with other common conditions, such as carpal tunnel or cervical stenosis from the joints in the neck, this condition is often misdiagnosed. The standard diagnostic tool to confirm whether someone has DCM is magnetic resonance imaging (MRI).
The treatment:
Physiotherapy:
Patients with mild symptoms should be monitored and may benefit from physiotherapy. A physiotherapist, once identifying DCM, can assist in providing education, manual therapy, and exercises to assist you in improving posture, neck mechanics, and pain management techniques to reduce or improve the consequences of spinal cord compression.
Surgery:
Surgery is recommended for those with moderate to severe impairment. Surgery is performed to take pressure off the spinal cord, and in some cases, to reconstruct areas of weaknesses. For instance, this can involve removing the discs, and placing a bone graft into the disc space to open it up, then correcting the alignment of the spinal cord, and reconstructing the area of the spine with a titanium implant. Most patients only need surgery once, he says, but as they age, some may need further surgery on untreated areas of the spine.
*The above article is a summary of Degenerative Cervical Myelopathy (CDM) extracted from an article from The Globe and Mail. To view the full article, visit https://www.theglobeandmail.com/life/health-and-fitness/article-how-to-recognize-the-early-signs-of-degenerative-cervical-myelopathy/
For more information or to book an appointment, click the button to contact us!
Caleigh ( Athlete and student )
"After two sprained ankles within twenty-four hours of one another, intensive physiotherapy got me off crutches and to an overnight snowshoe camp and European soccer tour within weeks."
Caleigh
Nell (Educator and (again, thanks to Ross) considerably more knowledgeable Cricket Spectator)
"I was referred to Ross by my doctor, originally, for treatment of shin splints. When Ross could see my progress was not as expected, he communicated with my doctor regarding the possibility of a tibia fracture – a subsequent CT scan confirmed it was. Thanks to Ross's professional experience and keen attention to underlying symptoms, my injury was more accurately diagnosed and is now, with his physio support, healing well. Ross' quiet sense of humour and steady encouragement have made my physio treatment experience very positive".
Nell
Peter ( still strolling along. )
"Ross took the time to understand the impact heel pain had on my activities and analyze the mechanics and footwear that aggravated the pain. With therapy and the custom orthotics he prescribed and recommended footwear I was able to happily stroll through the villages and countryside of Italy this Summer."
Peter
(still strolling along.)
Paul Gray ( active dad and running enthusiast )
"My experience at PhysioPlus was extremely positive. 3 days after tearing my ACL playing soccer I had my first visit. I walked in on crutches and was wearing an immobilizer knee brace for stability. Ross was able to help me regain confidence to bear weight on my injured leg and I was able to walk out with the crutches in one hand and the knee brace in the other.
Ross was able to confirm from his assessment of my knee that I had, in fact, ruptured my ACL which had not yet been confirmed, being prior to an appointment with the orthopaedic surgeon or an MRI.
Ross had me work through a program pre-surgery to regain as much mobility and stability I could without having the ACL intact. After the reconstructive surgery was completed we worked through a program to continue to increase mobility and strength. Having access to the exercise room complete with equipment was extremely helpful. Ross was able to explain and demonstrate how to effectively work through the exercise routines.
Within one year of my surgery I have returned to running and have started some hiking. I would highly recommend PhysioPlus to anyone requiring treatment. The atmosphere is calm and everyone is extremely friendly and caring."
Paul Gray
Active Dad and Running Enthusiast
Lisa Wren (Age 55)
"After completing an extensive painting project, I ended up with a frozen right shoulder, which was extremely painful and debilitating. This is when my introduction to Physioplus occurred. My physiotherapist, Ross Baines, was instrumental in getting me back to good health. Ross used various interventional techniques to encourage movement in the shoulder joint, always providing me with ample information about each. He was always professional and communicated thoroughly with the rest of my medical team. I have every confidence that the care Ross provided expedited my return to normal activity. I would not hesitate to recommend Ross and the entire team at Physioplus!"
Lisa Wren
Bruce Cook – previous hard core triathlete
"Most highly recommended for physio and rehab. Ross is a knowledgable and caring practitioner, going above and beyond to help you. Easy going personality and very supportive. Ross is easy to talk to with incredible results. A+ from me."
Bruce Cook
– previous hard core triathlete